Naturally you'll want to give your students the best advice about career opportunities in the Navy, Army and Air Force. Follow the link below for summarised information or check out the most popular FAQs.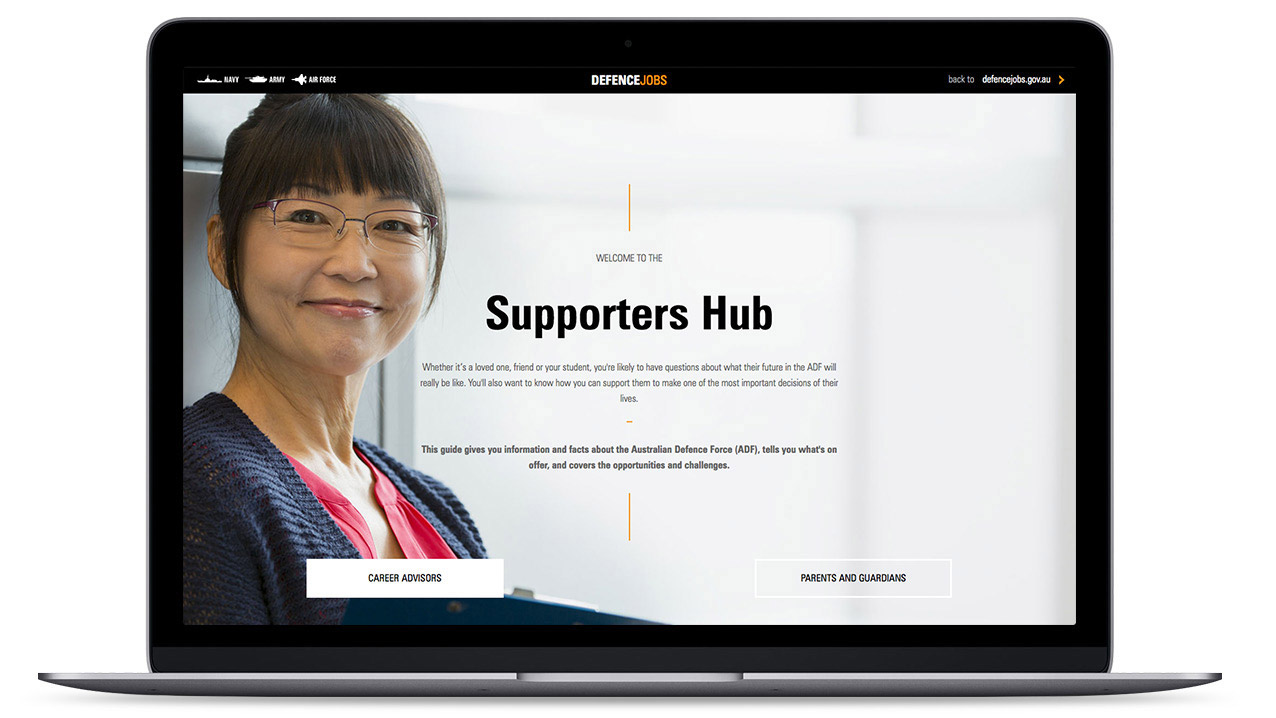 ---
Career Advisors Hub
We've created an online information resource to give Career Advisors the tools to provide students with informed advice about the job options available in the Australian Defence Force. Click below to access this website.
What type of jobs are available in the ADF?
Candidates can join the ADF through either the Officer or General Entry streams.

Officer positions are more management focused, requiring team leadership and decision-making. General Entry positions are also challenging but differ in that they tend to be more trade related or are non-technical jobs ranging from healthcare to combat.

The ADF Reserve is another great way to enter. These part-time positions with full-time excitement offer the opportunity to work alongside regular (full-time) ADF personnel. Reservists learn great skills and enjoy tax-free pay that won't affect any Austudy or other government allowances. All Reservists enjoy free or subsidised meals and accommodation while training and free uniforms. Flexibility is one of the many advantages of a part-time job with the ADF and there are many roles available. Training and work are structured so they can fit around each Reservist's study or work commitments.
What education opportunities are available in the ADF?
In addition to providing a range of degree courses at ADFA, the ADF sponsors university students who have started their degree through the Defence University Sponsorship scheme. Sponsorships are available across all three Services and across a number of different disciplines. The ADF makes university much more affordable by covering tuition fees, as well as paying a salary of up to $46,368 per year (to undergraduates) or up to $64,517 per year (to postgraduate students pursuing the graduate medical program) while they study. Personnel also have the opportunity to undertake post-graduate studies that are fully funded by the ADF.
What kind of lifestyle does the ADF offer
Life in the ADF is in some ways very much like that of civilian life. Once recruits have completed their initial training, for which they'll be paid, they are generally allowed to live off base, whether they're single, married or still living at home. So going to work is similar to any other job, with after hours and weekends generally free to do what they like. They'll receive a regular salary plus generous superannuation from day one of their employment.

While living on base the standard of accommodation is very good and accommodation and food whilst training is subsidised to reduce any financial burden. During Recruit Training, trainees will share a room with up to four other recruits (same gender). However, if undertaking Officer Training, rooms are single berth. After completion of initial training, all accommodation is, generally, single room accommodation with communal facilities such as bathroom, kitchenette and living room. The meals provided by the ADF are of a high standard. During training, everyone has available three cooked meals a day in a Mess, with a choice of several dishes, including vegetarian dishes.

The facilities available vary for each base. Generally, each features:
Accommodation
Sporting facilities including a gym, pool, playing fields, and/or tennis courts
Leisure facilities including recreational clubs and/or sporting clubs, and a bar
Shopping facilities plus a canteen and EFTPOS facilities
Access to internet, PCs, phones (mobile/land), TV, DVDs and game machines
Parking for private vehicles – so no need to use public transport to and from the base
Email and provisions for letter writing
All facilities are maintained to a high standard and cater for a diverse range of interests and hobbies.
---
Still need help?
Just get in touch by phone or in person, or fill in a form and we'll be happy to help.