Across every one of our 200+ roles, the ADF offers excellent career opportunities for women. We champion equality and provide a uniquely supportive and inclusive workplace.
Share an exciting lifestyle
Many ADF roles have day-job hours, giving you plenty of opportunities to socialise, spend time with your family, play sport and make the most of extensive fitness and leisure facilities on base.
You'll make friends for life through memorable shared experiences such as supporting peacekeeping and disaster-relief missions and participating in exercises.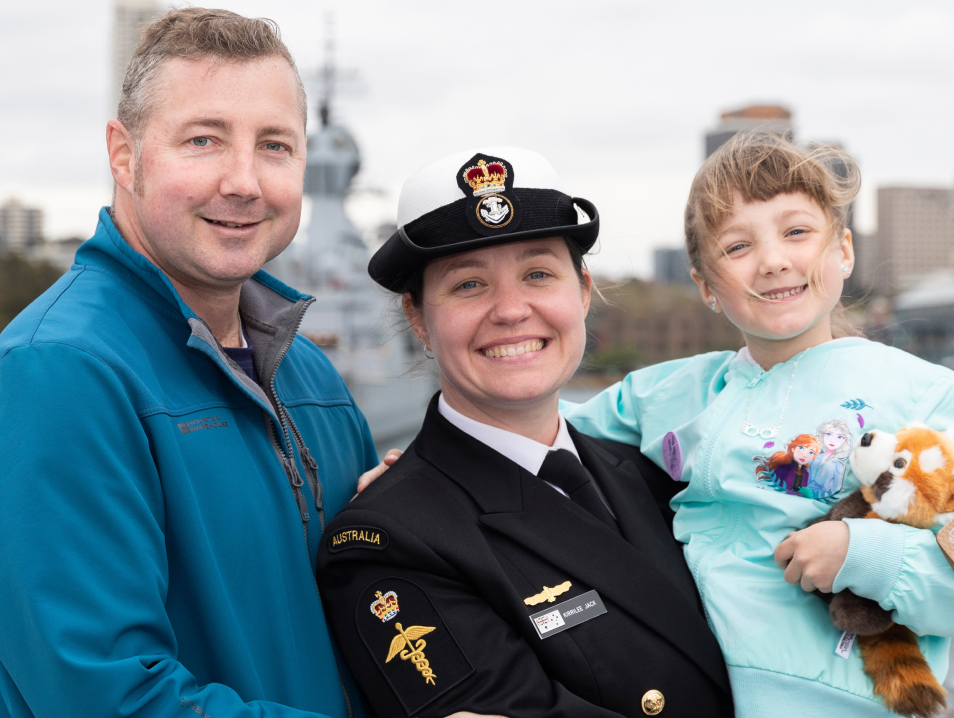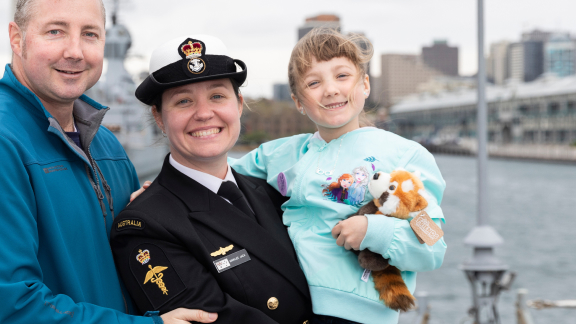 Receive support for family needs
ADF parents are given the support to manage their family commitments without detriment to their careers, including flexible working arrangements, maternity/paternity leave and 'on hold' career options. We also provide substantial housing subsidies and may assist with:
Childcare
Schooling requirements
Additional health support for dependents in regional posting locations
Leave and financial assistance to help with home moves
Partner employment assistance, and
Programs for settling into a new community.
---
Flexibility
People who join the full-time Navy, Army or Air Force are commonly expected to work on a full-time basis. However the ADF has flexible work arrangements available such as the ability to work from home, work from another location or work outside your normal core hours.

With approval from your respective Service (Navy, Army or Air Force) and subject to service capability requirements, you may be able to work part-time to suit your current situation. Applications will only be considered after completion of recruit and Initial Employment Training, which will typically be several months after appointment/enlistment.
Postings & deployment
"When we're at sea, we're more than just a dentist, we're part of the crew. When we're ashore, we work in a health centre."
A balanced lifestyle
"It's important to be the best I can be at work, and still be there for my kids."
Support for families
"We're really lucky they support us with flexible working hours as well as carer's leave."
Get paid to keep fit and healthy
It's important for ADF personnel to be fit enough to carry out their duties. Keeping fit will be an integral part of your job and an added bonus is that you'll get paid while doing it.
On most bases you'll have access to a wide range of team sports along with swimming pools and well-equipped fitness facilities.
This guide will help you to get started on your fitness journey, including practising correct techniques for your Pre-entry Fitness Assessment (PFA) and tips for success.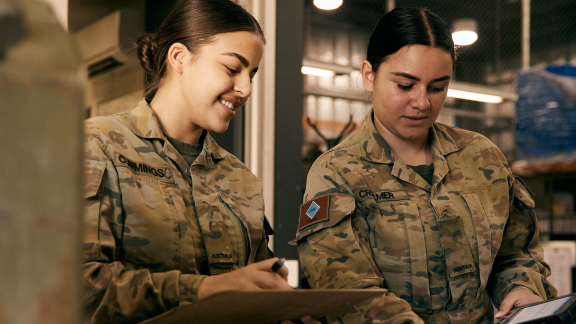 Enjoy a shorter commitment
If you want to experience life in the ADF but are concerned about the number of years you have to commit to, a number of roles require just a 2 to 3 year commitment.
Roles in the Army such as Administration Assistant, Ammunition Supplier, Armoured Vehicle Crew, Artillery Observer, Artillery Operator, Artillery Systems Operator, Chef, Combat Engineer and Infantry Soldier.
In the Navy, there is a 2 to 3 year commitment for General Entry Sailor and Submariner roles, this includes Marine Technician, Electronics Technician, Aviation Technician, Communications Operator, Networks Operator, Electronic Warfare Submariner, and more.
---
Enjoy career equality
In today's modern ADF, women receive exactly the same salaries, training, vocational development and promotion opportunities as their male colleagues. We believe career advancement and rewards should be based on potential, effort and achievement.
Equal pay
"Getting paid in the Army has nothing to do with gender or anything like that. It's specific to your job role and your skills."
Diversity
"I'm never looked at as being different to anyone else, it's just you're in a same-sex couple relationship."
Women in every role
"Men and women are able to do the same roles."
---
Discover Pathways
Each service has flexible enlistment pathways developed for female candidates looking for full-time roles and some roles have multiple entry methods. Discover the best way for you to start an exciting career in the ADF.
Choose where to work
Recruit to Area
When serving in a specific location is a high priority for reasons such as family.
Available for your first posting after completion of recruit and initial training, where desired location is near a military base.
Open to all General Entry (non-technical) roles in the Army and Air Force.
Join when it suits you
Recruit When Ready
Available if you demonstrate high potential when interviewed and want to join as soon as possible.
Open to General Entry roles in the Army and Air Force where a military base is near your desired location.
Receive financial assistance for pilot and mission roles
Tertiary Aviation Reimbursement Scheme (TARS)
For females and Indigenous Australians who join the Air Force with a relevant Bachelor degree in aviation from an Australian university and meet eligibility criteria.
You may be eligible to have your academic costs reimbursed.
---
Build resilience through a preparation pathway
If you have the attributes and personal drive we're looking for in the Army, but would benefit from additional physical and mental preparation, you may be eligible for the Army Pre-Conditioning Program (APCP).
This entry pathway assists in improving your fitness, confidence and resilience to help you unlock your potential and assist with your Initial Military Training. Multiple programs are held at Kapooka throughout the year. APCP selections are primarily based on Career Coach or Defence Interviewer recommendation. After your initial online testing, a Careers Coach will be on hand to guide you through the recruitment process and discuss how APCP can benefit you.
Women in the Navy
See how the Navy provide a uniquely supportive working environment for women.
Women in the Army
See how women in the Army get the support they need to have successful careers.
Women in the Air Force
See how women in the Air Force are given equal opportunities to achieve career success.
---
Get in touch
Get all the answers to your questions, whether you're a candidate, parent or career advisor.